Water Damage Restoration in Northwest Indiana
Water Damage Restoration Northwest Indiana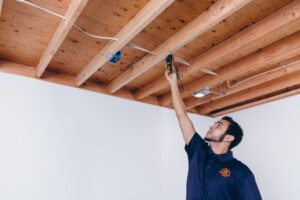 Water damage restoration is a fundamental feature of living in Northwest Indiana because the risk of flooding always exists. You can do nothing to avoid an impending flood or water damage through similar incidents; however, having reliable water damage restoration near you can make things a lot easier to manage.
911 Restoration of Northwest Indiana offers extensive coverage for damage restoration for homes, residential and commercial buildings, industrial warehouses, etc. We understand how stressful it is when a sudden leak or disaster causes flooding in the house, affecting your furniture appliances, etc. That's why we are available 24/7 and want to do everything we can to help you with water damage mitigation. 
Our water damage restoration staff have had extensive experience in the field and can help you restore your home or building after flooding, water leaks, mold infestations, etc. All you need to do is give us a call at (219) 255-4163, and our water damage restoration techs will reach you within 45 minutes, ready to get started.
Why Water Damage Needs Immediate Attention
The critical problem with water damage is that it multiplies to create more significant problems. Depending on the severity of the situation, the damage can cause mold infestation, roof damage, bio-hazard due to sewage water seeping inside the house or building, etc.
We know from experience how emotionally exhausting and draining it is for clients to deal with the initial water damage. The last thing you want is to worry about things escalating to make the situation worse than it is.
However, you have nothing to worry about because the 911 Restoration of Northwest Indiana will take care of your property, restore your belonging, and offer the emotional support you need to get through the situation. 
The Best Water Damage Restoration Near You
We are the right choice for the job because we are prepared to do everything we need to restore your house. There are three types of support you can expect to receive when you hire our services:
Functional and Technical Support
Emotional Support
Addition Related Support
Functional and Technical Support
Functional and technical support covers the primary damage restoration services you need. Our primary job is to quickly assess the source of the damage and conduct emergency damage control. Once the situation is relatively under control, our IICRC-Certified technicians thoroughly inspect the affected areas of the property, highlight the concerns, and draft an action plan for restoration.
We will move forward with the comprehensive restoration soon after receiving your approval.
Emotional Support
Seeing your home at risk is never easy and takes a heavy toll on mental health. We will try our best to help you recover all your belongings, but some might not make it, and we understand how painful that can be.
Our water damage restoration workers will always consider your emotional state when offering our services and do everything to reduce your stress. We are committed to easing your worries, and our practice reflects this commitment.
Additional Related Support
Water damage due to flooding can render several objects too damaged for restoration, especially if sewage water seeps inside the house. The nature of the damage is potentially hazardous and requires careful disposal that prevents potential infections or infestations from spreading.
Our team will manage the disposal, so you don't have to worry about the process and focus on recovery.
24-Hour Emergency Flood Clean-Up in Northwest Indiana
We offer water damage restoration in Northwest Indiana; hence, we are always prepared for flooding. Leaving flood damage unchecked can be disastrous, which is why we offer 24-hour emergency restoration services for water damage mitigation.
Our flood clean-up in Northwest Indiana include the following services:
Water removal
Boarding up
Roof repair
Storm repair
Sewage water removal
Leak detection and more
It is imperative that the water damage restoration staff succeeds in removing water from all surfaces inside your home. Hence, our technicians use structural drying and dehumidifying techniques for water removal. They also use professional blowers to remove all traces of moisture to prevent future mold formation, which can be hazardous.
Please call 911 Restoration of Northwest Indiana at (219) 255-4163 immediately if you need water damage restoration near you. Our water damage restoration professionals are available 24/7 and will reach your location within 45 mins.