Sewage Backup Cleanup in Northwest Indiana
Sewer Backup in Northwest Indiana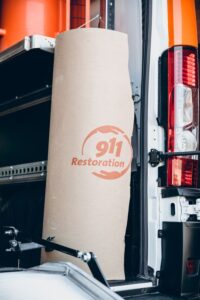 Sewer backup in Northwest Indiana is one of the worst property disasters you can encounter. Unfortunately, it is not rare either. The region is no stranger to emergencies because of thunderstorms, flooding, and similar disasters, which are likely to cause sewage backup.
The trouble is that this issue can become a severe biohazard and needs to be dealt with immediately for damage control. Please call us immediately at (219) 255-4163 if you currently require sewage backup or black water cleanup. We provide 24/7 services, and our team will reach you within 45 minutes of your call.
911 Restoration of Northwest Indiana is a locally-owned business; therefore, our teams are aware of the region's climatic challenges. Our technicians are also IICRC certified, and have the necessary training to conduct an inspection, devise an efficient cleanup strategy, and implement the strategy to reinstate access to clean water.
Why Sewage Backup is Hazardous
A sewage backup is one of the most hazardous consequences of water damage due to natural disasters or flooding. There are several reasons why it is extremely dangerous and needs to be dealt with swiftly.
Releases Air-Borne Pollutants and Pathogens
Sewer backup is dangerous because it contains a mix of pollutants, germs, bacteria, and similar pathogens. The materials making up the sewage are in various stages of decomposition and can release toxic fumes into the air.
The fumes are hazardous because they contain air-borne pollutants and pathogens and cause infections like gastroenteritis.
Contaminates Water Supply
A sewer backup can cause black water contamination to the water supply, creating a potential biohazard emergency. Ingesting contaminated water can cause severe health issues; therefore, you need to call professional cleaners immediately to manage the situation.
Emergency Sewage Cleanup Services
911 Restoration in Northwest Indiana offers expert sewage backup cleanup services near you. Our professionally trained technicians will investigate the cause of sewage backup, inspect potential structural damage and provide a solution that completely restores your property.
The following additional components are part of our sewage cleanup services.
Black Water Cleanup
Black water contamination refers to when your water supply becomes contaminated with human waste, soil, etc. These elements are hazardous for your health and need to be removed completely for the water to be fit for consumption.
Our teams are experienced at black water cleanup. They will leverage their expertise, approved cleaning agents, and effective strategies to restore the source of the problem and remove all contaminants from your water supply.
Biohazard Cleaning Services
Some disasters go beyond regular scales, and the resultant sewage backup becomes a biohazard emergency. Such events are especially true when the sewage backup occurs near hospitals or biological research facilities. These facilities regularly manage dangerous infections and chemicals, and sewage backup on-site can create a BSL-3 or BL-4 emergency. 
The 911 Restoration of Northwest Indiana team has security clearance to manage and sanitize biohazards. Therefore you can trust us to dispose of the waste, restore the property, and make the facility safe for use.
Please contact us immediately if you require emergency sewage or black water backup cleanup services.
Why We are the Best for Sewer Backup in Northwest Indiana
911 Restoration of Northwest Indiana is a locally-owned business, and we take pride in serving the community. Our team has undergone extensive training and remains updated about the latest CDC and EPA guidelines to ensure their cleanup and restoration strategies are aligned with regulations.
Most sewage backup incidents are extremely stressful, whether in commercial or residential properties. We understand your situation; therefore, we offer efficient but compassionate services to ensure you have the technical and emotional support to get you through the process.
Insurance Claims
Our teams have worked in the field for several years, which has given us extensive insight into how insurance filing works. After all, we want to do everything to help; therefore, we will help you draft your insurance claim, so you have to pay the minimal amount for property restoration.
Please call 911 Restoration of Northwest Indiana at (219) 255-4163 immediately if you need sewage backup cleanup services near you. Our teams are available 24/7 and will reach your location within 45 mins.