Mold Removal in Northwest Indiana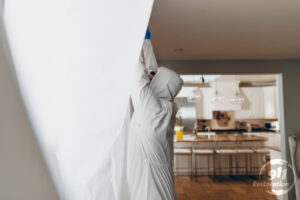 Knowing a reliable business that offers mold removal in Northwest Indiana near you is essential if you live or work in the region. The reason is simple; you live close enough to the coast for the weather to be humid, creating the perfect conditions for mold growth.
If that wasn't enough, Northwest Indiana is also at higher risk of flooding, which causes enough water damage to increase molding chances. Hence, your best chance for ensuring your commercial building meets safety compliance is partnering with us.
911 Restoration of Northwest Indiana is familiar with the climate in the region. Our IICRC-Certified technicians have undergone extensive training, allowing them to quickly detect signs of molding, even when it is in its earliest stages. The early detection allows them to take necessary actions to treat mold and address the water damage causing it before the growth turns into an infestation.
They also excel at mold restoration for more advanced cases and will help you restore the commercial building to its damage-free state.
Mold Removal in Northwest Indiana
As mentioned above, Northwest Indiana has a relatively humid climate, making it easier for dampness to accumulate. The region also receives 42 inches of rain on average, 4 inches higher than the national average.
It is easy for rainwater to seep inside and go unnoticed, especially in buildings with basements that are used infrequently. The problem only becomes apparent once mold grows enough to become an infestation, which can be hazardous for people with compromised immune systems or mold allergies.
Therefore, we recommend scheduling regular inspections for early detection and mold remediation in Northwest Indiana. If you suspect mold growth in your property, contact our mold removal staff at 219-255-4163 immediately. We are available 24/7, and our mold removal techs will reach you within 45 minutes.
Mold Remediation in Schools and Commercial Buildings
Mold restoration may sound simple, but it is anything but. There are over 100,000 different types of mold, each with unique properties and hazardous reactions. This detail is what complicates mold remediation in schools and commercial buildings.
Schools and commercial buildings are far too large for caretakers to detect mold in the early stages. They are also incredibly crowded, making it easier for mold spores to spread and grow into potentially hazardous infestations for anyone with mold allergies or compromised immunity.
Thankfully, 911 Restoration of Northwest Indiana has extensive experience in mold remediation in schools and commercial buildings. Our trained, certified, and experienced technicians can detect mold even in such vast buildings and treat them successfully.
Hence, partnering with us for regular mold detection will help you keep your property mold-free and safe for everyone.
Mold Restoration Near You
We understand that trust and reliability are non-negotiable factors for partnering with someone for restoration purposes. But that's what makes us the best mold removal professionals for the job and why you should choose us when looking for mold restoration near you.
911 Restoration of Northwest Indiana is locally-owned. We're made up of people who have grown up in the region and are part of the local community. We understand the mold patterns of the region because we are part of the community and have had years of dealing with the problem for which you need a solution.
We also treasure the local community and want to do everything to help. Hence, our services will go beyond technical expertise and offer compassionate support to reduce your stress and maximize customer satisfaction.
That's not all. We are a part of 911 Restoration, a licensed, insured, and bonded nationwide company. Therefore, all our mold removal professionals must meet standard skill criteria, follow strict quality controls, and adhere to SOPs. Such requirements ensure you get nothing but the best possible mold removal in Northwest Indiana.
Please call 911 Restoration of Northwest Indiana at 219-255-4163 immediately if you need mold restoration near you. Our mold removal staff is available 24/7 and will reach your location within 45 mins.