Disaster and Storm Restoration in Northwest Indiana
Disaster restoration in Northwest Indiana is a part of the routine because the region is vulnerable to natural disasters. The only problem is that such disasters take a heavy toll on properties. We understand how difficult it is for you to see the property damage after a particularly bad flood or thunderstorm. That's why we want to do everything we can to help you with storm damage repair.
911 Restoration of Northwest Indiana is a locally-owned business, and we deeply care for the community. Therefore, we offer 24/7 disaster restoration services that you can access by calling 219-255-4163. Our teams will reach your location within 45 minutes of receiving your call.
What is Covered in our Storm Damage Repair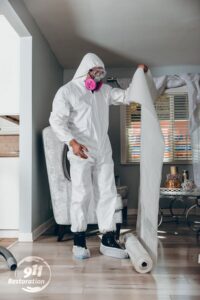 Storms and natural disasters pose a severe threat because they cause multiple types of damage depending on the storm. Thunderstorms can cause water and fire damage, while flooding often makes basements fill with the sewage water.
Our team has extensive experience in managing storm damage repair, which is why we offer an extensive range of restoration services for disaster restoration. Following are the main services you can expect our technicians to provide depending on your repair needs:
Fire Restoration
Sewage Cleanup
Property sanitization and disinfection
We prioritize damage mitigation; therefore, our first responders will conduct a comprehensive inspection to determine the extent of repairs needed. This assessment is free and carries no obligation, so you can consult your insurance provider and work out the details of the repair cost your insurance will cover. If you decide to work with us, we will move forward with the next steps.
The emergency response, compassionate inspection, care, and holistic coverage of all aspects of disaster recovery are what sets us apart from other natural disaster cleanup companies.
Fastest Emergency Storm Restoration in Northwest Indiana
A timely response is a fundamental requirement for storm restoration in Northwest Indiana because delays increase the risk of damage escalation. Our IICRC-Certified technicians are aware of the matter's sensitivity and work swiftly to minimize danger.
We have also developed a systematic series of SOPs for disaster restoration projects to help our technicians efficiently carry out their duties.
The process starts with an initial inspection and damage evaluation. While we share details of the evaluation, another team works on securing undamaged belongings to keep them safe. After these emergency steps are covered, the disaster and storm restoration professionals present a detailed restoration plan. This will highlight affected areas and outline our storm damage repair strategy.
As a general rule of thumb, we prioritize handling fire restoration and sewage cleanup because both can become hazardous if left unaddressed for too long.
Structural Damage Restoration
Natural disasters differ in intensity, some being dangerous enough to cause structural damage to your house or property. Our restoration staff keeps this detail in mind when conducting inspections and inform you if your property shows signs of such damage.
We want to ensure that we leave you with a safe, clean, and secure home; therefore, our storm restoration services include structural damage restoration to ensure your property is fully repaired.
The Best Storm Restoration Services
We offer the best storm restoration in Northwest Indiana, and we have evidence to back our claims. 911 Restoration of Northwest Indiana is committed to achieving excellence by maximizing customer satisfaction.
Our fire damage restoration workers understand how emotionally training it is to go through storm restoration; hence, they go beyond technical support to ensure your comfort. We always add emotional support to our expertise when handling storm damage repair to reduce stress.
We also have extensive experience in the field; therefore, we can help you with your insurance documentation to ensure you receive appropriate insurance coverage.
Please call 911 Restoration of Northwest Indiana at 219-255-4163 immediately if you need disaster and storm restoration near you. Our fire damage restoration professionals are available 24/7 and will reach your location within 45 mins.