Sanitization Services in Northwest Indiana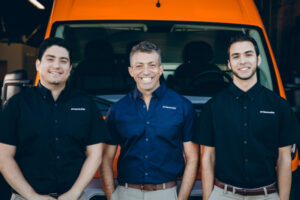 The COVID-19 pandemic turned our lives upside down, and there has been no going back. However, it wouldn't be accurate to say this is the first time sanitization services have become needed. COVID-19 cleaning services are in demand, but you needed sanitization and cleaning services for your commercial and residential buildings even before the pandemic hit.
Infection-causing pathogens have been around for decades and cause frequent outbreaks throughout the year. 911 Restoration of Northwest Indiana has always encouraged businesses to get their offices, warehouses, workplaces, etc., regularly sanitized to prevent infection outbreaks. We provide professional cleaning services, and our IICRC certified technicians are experts at removing all germs and bacteria to make your office or residence safer.
The safety of your staff, business partners, customers, etc., is in your hands, and we are here to help you maintain it. We provide 24/7 emergency services, so you can give us a call at 219-255-4163 if you need COVID-19 cleaning services at any point. Our team will reach you within 45 minutes, ready to start working.
COVID-19 Cleaning Services
The coronavirus has proven to be persistent; hence, we have taken additional measures to increase the effectiveness of our services. As always, our teams are informed about the latest CDC updates about the handling of the virus and have adjusted COVID-19 cleaning services accordingly.
The problem is that the newest variants of COVID-19 are highly contagious, making it easy for the infection to spread. Following are common interactions or actions that boost the spread of the virus:
Touching or interacting with the same surfaces as everyone.
In-person social interactions, especially when people are near each other
Document sharing
External teams coming into the office (they have high exposure and can carry the virus inside)
These are only some of how the virus can spread quickly indoors.
We know how dangerous the virus is for senior citizens and immunocompromised citizens; therefore, we thoroughly clean surfaces, floors, items to remove the virus as much as possible.
Our IICRC-certified technicians use approved cleaning agents effective against COVID-19 for deep cleaning your homes and offices. Although we cannot guarantee absolute elimination, we follow all CDC and EPA guidelines to minimize risk as much as possible.
What Else is Covered in our Sanitization Services
COVID-19 cleaning services are a relatively new addition to our sanitization and cleaning services. Our general sanitization services include:
Disinfection and Sanitization
Carpet Cleaning
Biohazard Cleaning Services
Disinfection and Sanitization
Our general disinfection and cleaning services align with CDC and EPA guidelines. We use efficient machinery and cleaning agents to sanitize and clean floors, shelves, surfaces, etc. We also wipe and sanitize regularly used objects like phones, keyboards, printers, etc., to kill as many germs and pathogens as possible.
Carpet Cleaning
Carpets absorb moisture and pollutants and are hotbeds for germs, bacteria, mold, and similar pathogens. Furthermore, pathogens hide in the fibers and multiple, routinely getting released into the air and spreading infection.
911 Restoration of Northwest Indiana provides carpet cleaning and sanitization services to help remove maximum impurities from your carpets and leave them clean, fragrant, and stainless
Biohazard Cleaning
Biohazard cleaning involves chemical or biological waste and requires special clearance to handle. For this reason, our technicians are certified and have the expertise to manage the disposal of biohazard material. They use potent cleaning agents to sanitize the area, making it safe for usage.
Why we are the Best Sanitizing Company in Northwest Indiana
911 Restoration of Northwest Indiana is among the best COVID-19 cleaning companies and the ideal choice for you. We are locally-owned and care deeply about the wellbeing of the community. Therefore, we always go above and beyond to provide sanitization services that will keep you and your family or stakeholders safe from COVID-19 and similar infections.
We also understand how stressful the current situation is and always work extra hard to help you feel relaxed. Our teams have extensive experience and will offer both technical and emotional support to help you feel more at ease. After all, our flexibility, proficiency, and compassion make us the best sanitizing company in Northwest Indiana.
Please call us at 219-255-4163 immediately if you need COVID-19 cleaning services near you. Our teams are available 24/7 and will reach your location within 45 mins.